It's May 2018, on the south coast of France. Several hundred people are converging (heh) on Marseille for a week-long event, filled with tech talks, policy, discussions about the future (and past) of the Internet, questions and comments and statements, cheese and a lot of socializing with like-minded people. Below you will find my record and impressions of this trip, together with a few photos and links to other write-ups.
Prelude
Thanks to the awesome RIPE Fellowship Programme, a number of lucky people are rewarded for their professional & academic efforts in their local and/or Internet communities by receiving funding to attend the RIPE meeting. I am extremely grateful for being one of the fellows this time round and would like to extend many thanks to the RIPE NCC and to Amanda Gowland especially for arranging, communicating and ensuring that our experience at the event was going to be perfect.
With the meeting itself starting on Monday, I decided to head into Marseille a bit earlier so I'd have a full Sunday for touristic purposes. Well, at least I tried, as you see, instead of the expected late spring sunny weather, what I found there was a deadly combo of strong winds, a crisp 10 degrees and super heavy rain.
Thankfully, in the afternoon the rain stopped, so after a delicious lunch in a Tunisian restaurant with a couple of friends, we managed to actually brave the wind and wintry temperatures to do a bit of sightseeing.

Day 1
To add a bit of spice to those traveling from abroad into Marseille, the whole of Sat-Sun-Mon was affected by an Air Traffic Control strike (in addition to the day-to-day rail strikes, because France), causing delays to flights into the Provence airports and many cancellations.
People were stranded all over Europe (usually on the second connecting flight) and judging by Twitter reports Frankfurt was a particularly unlucky hotspot. Not only did my good friends from Freifunk have their flights cancelled a few times, but at one point the airport lost power due to heavy thunderstorms in the area. Thankfully they eventually made it on Monday evening!
The strikes also meant that the shipment of banners, badges and other materials was delayed till later in the day, which served as a reminder of how useful it is to have names on people at such a big event.
As I arrived for the early 9am tutorial slot (before the lunch-time official opening plenary), I noticed the absolutely huge main auditorium underneath the Palais du Pharo. I'll take this opportunity to congratulate the RIPE meeting team on their choice of venue - it was absolutely stunning.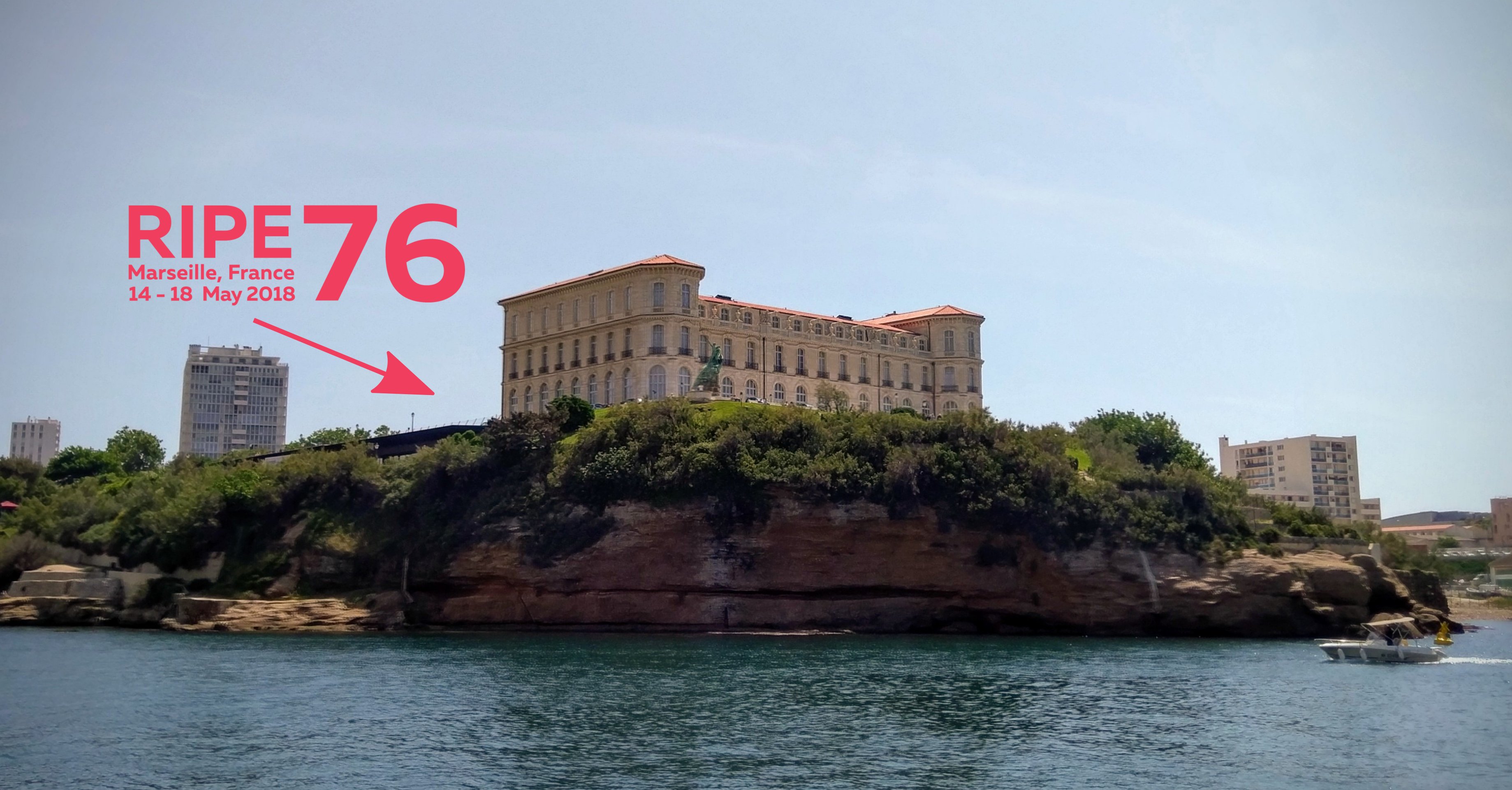 The morning tutorial I attended had a fair few attendees, and Mircea Ulinic gave us a good overview of salt and napalm-logs with a thorough live demo as well. I particularly loved the screen, huge cinema style setup - with two powerful projectors providing really good image quality, contrast and resolution.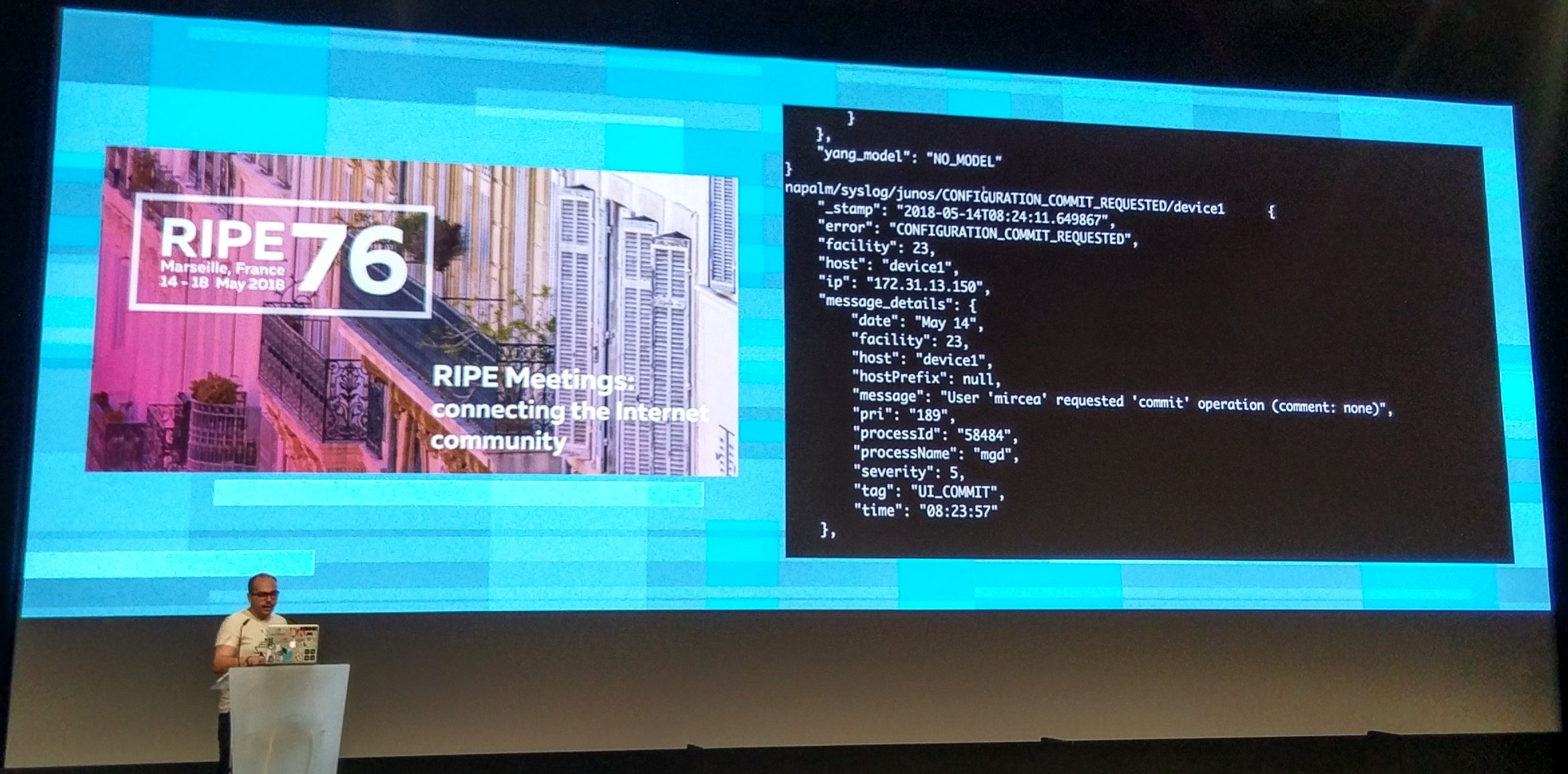 During regular presentation sessions the layout changed a bit, with plenty of space for slides (nicely accommodated both 16:9 and 4:3 aspect ratios) and live transcripts in very large readable fonts done by a fantastic team of stenographers - they talked about what they do at RIPE73, it's a funny and informative talk you should really watch.
After lunch and the official opening/welcome session by Hans Petter Holen, we were treated to a good mix of technical presentations (both longer format and really information intensive lightning talks). Questions/comments/statements sections had plenty of time and interaction from the audience (some of them in very witty RIPE style).
Overall the first day was great... this being my second RIPE meeting, I was more comfortable this time round as I knew a lot more people (also thanks to the international reach of iNOG) + moving laterally to groups extends that pool of familiar faces bit by bit.
The last bit of the day was the welcome reception, upstairs in the palace main room, with superb views of the bay. This was the first time they had a social at the end of day 1 that was open to all attendees and it worked really well to break the ice (we even got treated to a very cool sunset!). Please keep it like this for future meetings!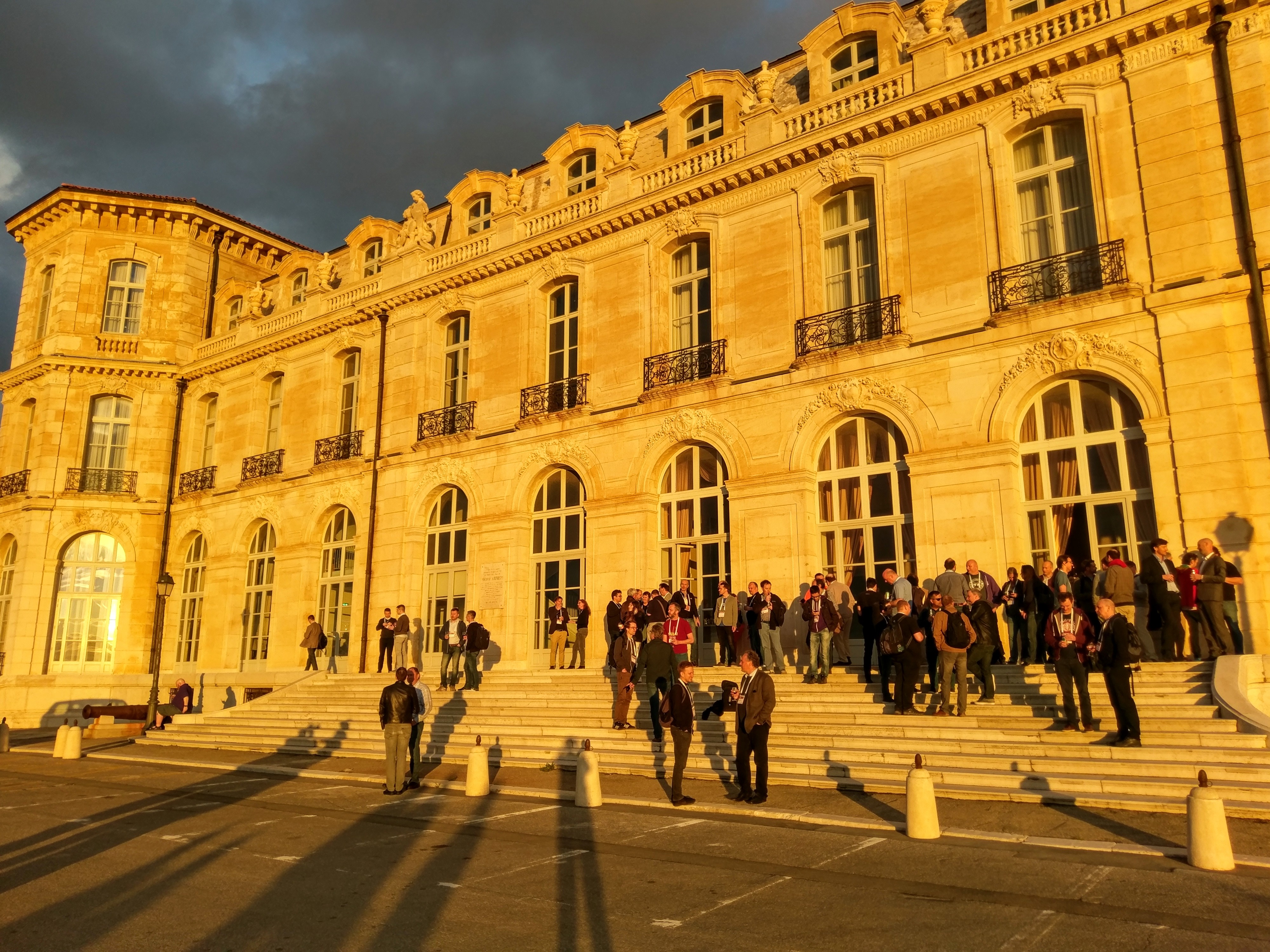 Day 2
A bit of late start, having breakfast at the hotel with my friends from Germany, making great use of the RIPE plenary livestream to make sure we didn't miss a thing! Tuesday is the main day of plenary talks... it was packed with great content both educational and entertaining.
Lunch today was a bit different, as I joined, together with many other supporters of diversity in tech, the WIT (Women In Tech) lunch, and was happy to see lots of familiar faces from both the community and RIPE NCC attending in support of a great initiative. The talks gave us an idea of how things may look from other viewpoints... so a big thank you goes to those sacrificing their lunch break to stand, talk and share with us their experience.
Later in the afternoon, I snuck into the diversity taskforce coffee meeting gathering for an interesting look into what they are doing - one of the main achievements for RIPE76 was providing on-site childcare for the whole week!
There was also a bit of GSD (Getting Stuff Done) for the June RIPE+iNOG Hackathon in Dublin with Vesna, a theme that repeated itself several times during the week.
The evening ended with a NOG (Network Operator Group) BoF style session. Thanks to the NCC for arranging a room and some structure - it was great to see not only Mirjam but also other great supporters from RIPE like Serge and Janos. I think about 12 NOGs had representation, from both small, large or newly established communities. Quite a lot of people attended (~30), organisers, friends & supporters of NOGs. There were many things to discuss and too little time, so thanks to all that shared their experience.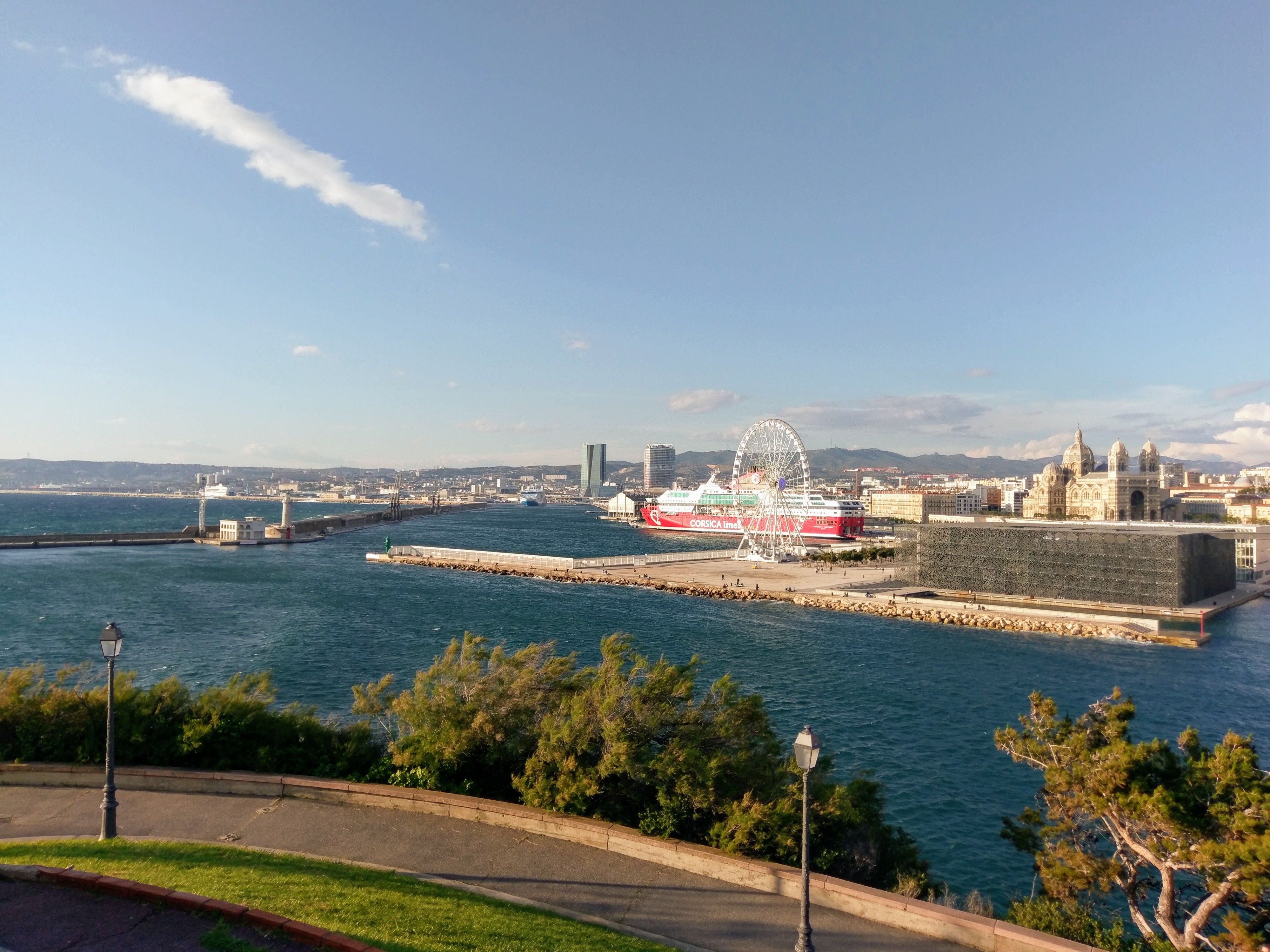 Day 3
Slow day. All attempts at getting up early in the morning failed (especially after staying late working on my Friday presentation about iNOG in the plenary). Made it eventually to Pharo for lunch and the afternoon sessions.
The DNS working group had interesting content... especially the large scale testing efforts undertaken by Baptiste from the University of Grenoble Alps.
Come evening time, things really got interesting. Marseille's home team was playing the final against Atlético Madrid (albeit the match was in Lyon) and it was a BIG thing. There were signs of that starting in the morning, but our palace underground venue insulated us from most of the happenings in the city.
So...
When you get out of the hotel and the port area is full of football fans chanting?
C'est Marseille.
When you return to the hotel from the conference in the evening before the match and it looks like the whole port area is on fire? - (photo credit)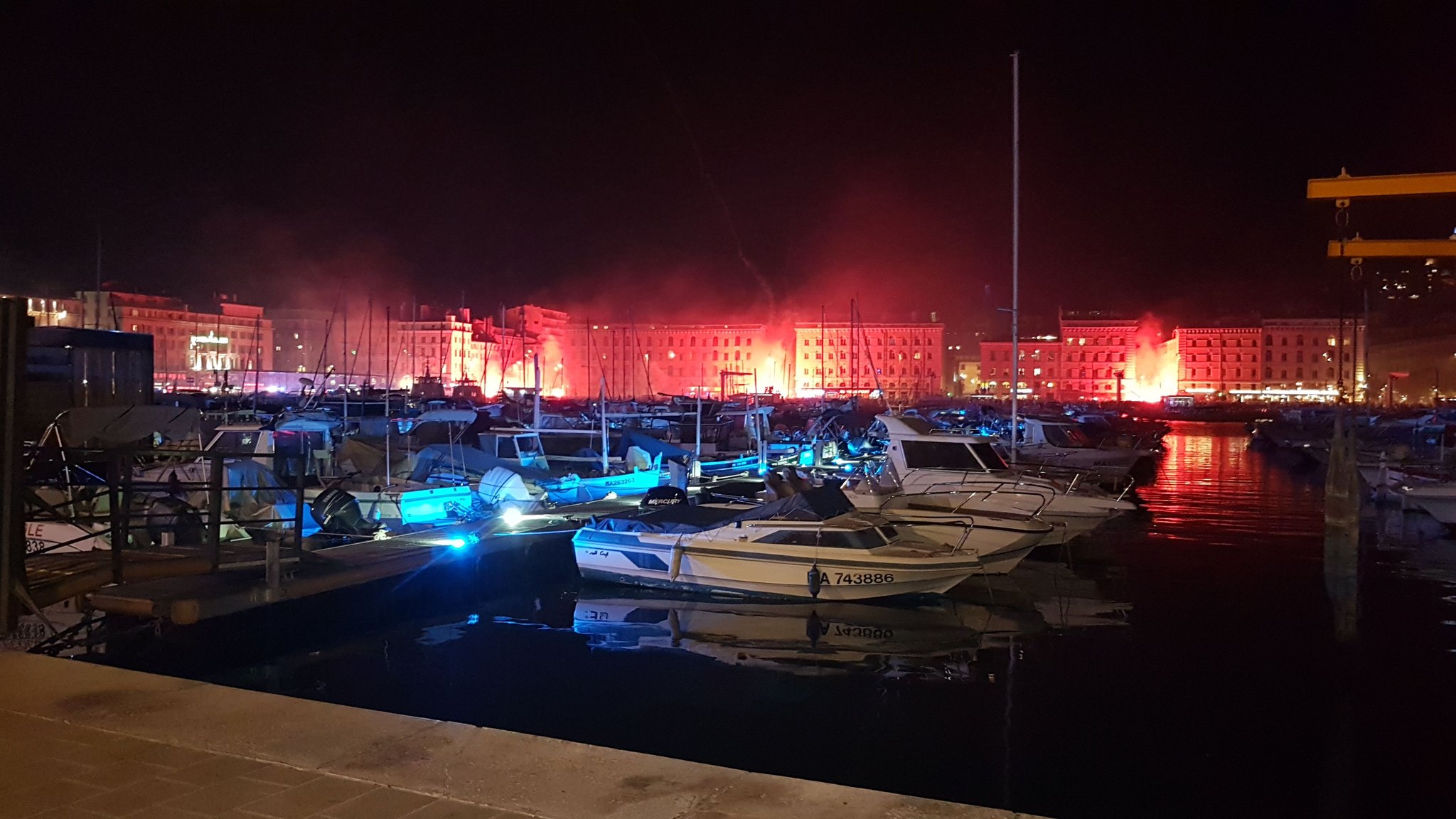 C'est Marseille.
When you see police being chased by supporters and your French friends just shrug it off?
C'est Marseille.
When you have a great time with your friends in the middle of this madness?
C'est Marseille.
So, together with a few of the RIPE fellows, I enjoyed dinner and some beer within the comfort of the hotel restaurant, while the home team was busy getting its wossname kicked. I have to admit I was impressed at how you could hardly see any traces of what had happened in the streets the very next day.
Day 4
More presentation prep work for Friday (the pressure was mounting up by now), more struggling to get up early in the morning. It's becoming a bit of a habit.
Thursday offered a full schedule of technical content, routing, open source and IPv6 were my choices and they did deliver. Of course all the recordings are available online in the meeting archives.
All throughout the week, I was witnessing some mad hacking from my good friends Oliver and Dan on bio-routing... including during the FRRouting update session. They are doing some really good work on building a highly performant clean and errr... organic routing daemon so check it out and see if you can get involved!
Another highlight was the presentation for the new Turris Mox modular router, an evolution of the really cool open-source home router Turris Omnia! It's a very cool project made by the community for the community and the campaign may still be running on indiegogo if you want to become an early supporter (they are now fully funded, going for stretch goals!).
Evening time required a quick nap back at the hotel (unlike some that slept in the very comfy and dark main room at Pharo) in preparation for the RIPE dinner at the Palais de la Bourse. It was a great evening in a gorgeous location.
Day 5
This is the big day - from 9am, thanks to Mirjam's efforts to share with the RIPE community what goes on with NOGs in the various countries, we had a one hour slot filled to the brim with updates and lightning talks - I was joined on stage by Eric from RONOG, Denesh from UKNOF, Michalis from GRNOG and Joao from ESNOG.
I was last to go, with a talk that combined a short story about the humble beginnings of iNOG and the lessons learned along the way. It was a whirlwind experience, having to blast through 30 (fairly lightweight) slides in about 10 minutes... I managed 13 minutes, which I don't feel as guilty about given the really great feedback I received afterwards from the community!
All the presentations are recorded (and linked above) so please check them out! And don't forget to look up and support your local community or start one from scratch!
For another day-by-day report (and choice tweets) from the RIPE NCC crew themselves, hop on right here.
Parting thoughts
With the conference coming to a close at lunch, we said our many goodbyes after a fantastic week and set out to enjoy an afternoon in (now, finally, very) sunny Marseille before heading home. I joined my friends from RONOG and a few others on a trip to the Frioul archipelago and Chateau d'If, dipped my toes in the (still rather cool) Mediterranean waters on a remote but gorgeous beach, and ate a proper mountain of Moules Frites to end the day.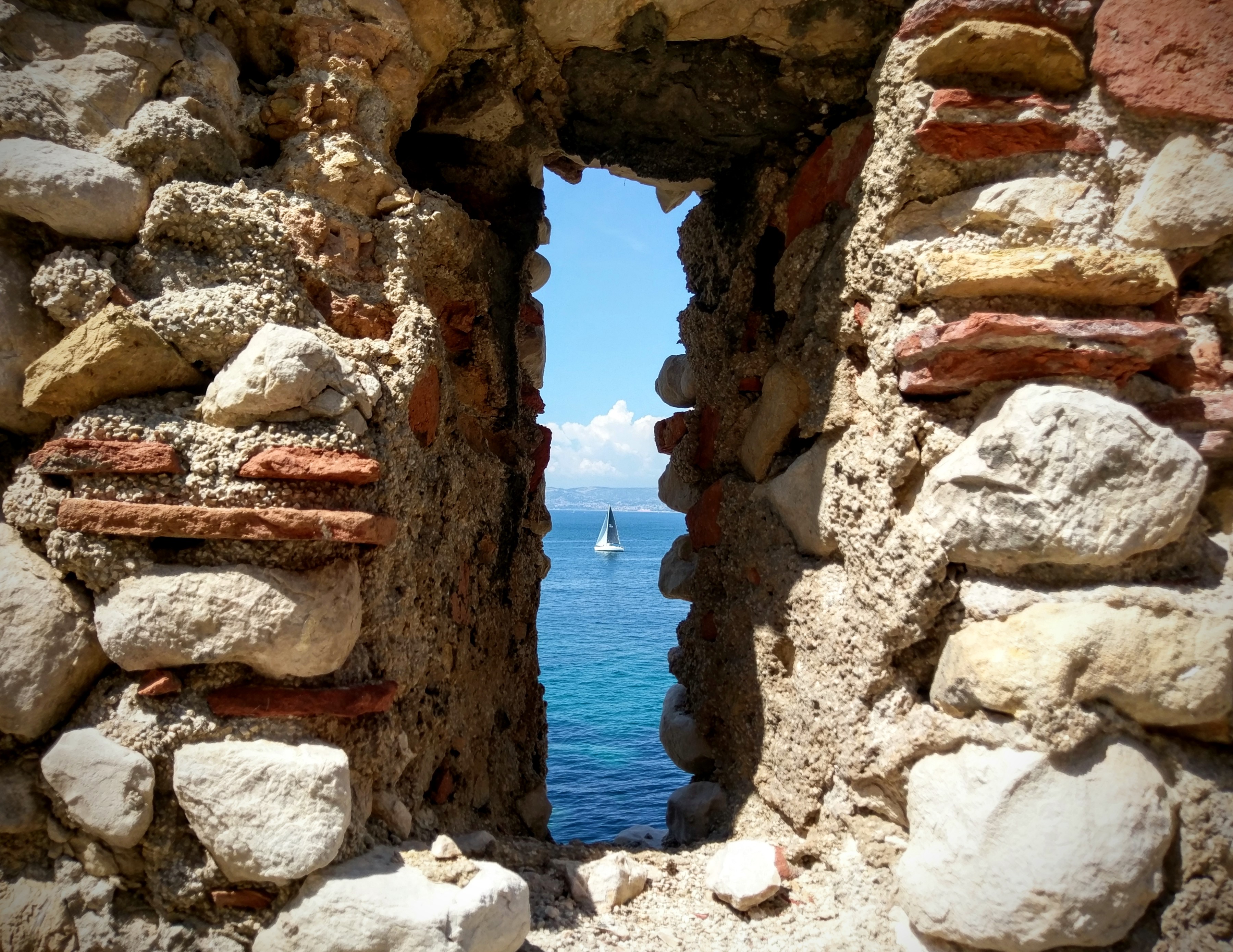 As we returned to Marseille Vieux Port on the sunset boat ride, my very thoughtful friends decided that having another beer in the port's Irish pub was mandatory before saying our goodbyes.
Now it's noon Saturday and I'm writing this after eating one last delicious blue cheese burger. Heading shortly to the airport, I am very grateful to the RIPE NCC for making it possible for me to be here this week - it was a lot of (great, nerdy) fun, I made plenty of new friends and met many old ones. Looking forward to the next RIPE meeting, and to everyone who made it possible, keep up the great work!
And, as always, thanks for reading.